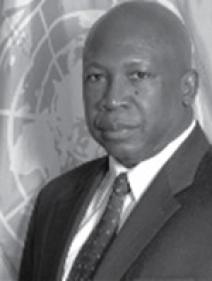 Mr. Abdoulie Janneh is from the Gambia. He was the Under- Secretary-General and Executive Secretary of the United Nations Economic Commission for Africa (ECA) from 2005 to 2012. 
Before joining ECA, Mr. Janneh served as Assistant Secretary-General and UNDP Regional Director for Africa from June 2000 to October 2005. In that capacity, he managed the United Nations Development Programme's (UNDP) largest Regional Bureau, covering 45 countries in sub-Saharan Africa with a complement of over 1,500 staff. Prior to that, he held a number of senior positions in UNDP and its affiliated funds, including Resident Coordinator and Resident Representative in Ghana (1996-1999) and Niger (1993-1996), as well as Deputy Executive Secretary of the United Nations Capital Development Fund (1990-1993).
When he took over ECA in 2005, the African institutional landscape was being re-shaped and the new millennium was in its infancy. Mr. Janneh, therefore, put emphasis on re-aligning the programmes and services with the priorities of the African Union and its NEPAD programme so that ECA would be better positioned to address Africa's development challenges, its special needs and regional integration goals, using a better collaboration between ECA, AfDB and AUC.
After ECA, Mr. Janneh joined the Board of the Mo Ibrahim Foundation, where he currently serves as the Executive Director, Liaison with Governments and Institutions in Africa for the Foundation.
He holds an MA in Urban and Regional Planning Studies from the University of Nottingham in England. He also graduated from Fourah Bay College, Sierra Leone (Engineering Science) and undertook post-graduate studies in Project Planning and Appraisal at the University of Bradford in England.