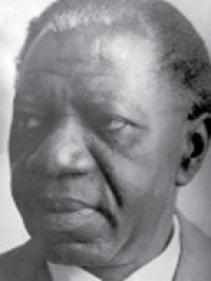 Mr. Robert Gardiner is a national of Ghana. He was the Under- Secretary-General and Executive Secretary of the United Nations Economic Commission for Africa (ECA) from 1961 to 1975. 
Mr. Robert Gardiner began his career at the Fourah Bay College in Freetown, Sierra Leone, where he taught economics from 1943 to 1946. After lecturing, he joined the United-Nations Secretariat in 1946 and served for two and a half years as area specialist on research and analysis of information from trust territories, at the UN Trusteeship Department in New-York.
For the next three decades, Mr. Gardiner occupied different high level positions both in the academic and diplomatic sphere. First, at his return from New York, from 1949 to 1953 he became the Director of Extramural Studies at University College in Ibadan, Nigeria. Then, for the next six years he was in the administrative service of the former Gold Coast and, following that territory's independence, continued with the Government of Ghana. For part of that time, he served as Director of the Department of Social Welfare and Community Development (1953-1955), permanent Secretary of the Ministry of Housing (1955-1957) and as the first Head of the Ghana Civil Service just after the country gained its independence (1957-1959).
During the year 1961, Mr. Gardiner was appointed a member of the Secretariat mission sent by United Nations Secretary General Dag Hammarskjold to the Congo, before becoming Director of the Division of Public Administration in the United Nations Department of Economic and Social Affairs.
In 1962, when he took office as Executive Secretary of the ECA, the Commission was still in the process of establishing itself as a relevant centre for development expertise in Africa. Under his leadership, from 1962 to 1975, ECA set up an institutional framework for successful implementation of African development policies and helped to establish the African Development Bank and the African Institute for Economic Development and Planning. Under Mr. Gardiner, ECA promoted post-independence original thinking and research on African policy.
Mr. Gardiner graduated from Cambridge University and did post-graduate work at Oxford and London Universities.