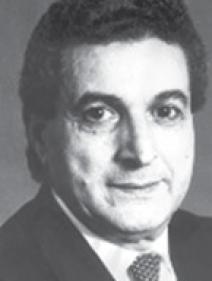 Mr. Layashi Yaker is from Algeria. He was the Under- Secretary-General and Executive Secretary of the United Nations Economic Commission for Africa (ECA) from 1992 to 1995. 
Mr. Yaker is an economist, and a career diplomat. Prior to joining the United Nations, he had a rich diplomatic career in service to his native country, Algeria. From 1969 to 1977 he joined the Government of the Republic of Algeria, at that time as the Trade Minister.  He then represented his country as Ambassador of Algeria for the Soviet Union for three (3) years from 1979 to 1982 and in the USA in 1983.
After that, he joined the UN as Special Advisor to the Director General of UNESCO from 1983 to 1992, before leading the ECA.
Under his mandate, he led the Commission to the Rio Summit in 1992, and he also led the effort to carry out ECA's Rio Declaration follow-up activity: building African countries' capacity for sustainable development by devising strategies for Agenda 21 implementation. Mr. Yaker adopted a Plan of Action to harmonize the objectives of IDDA II with those of UNTACDA II in order to facilitate implementation of both initiatives.